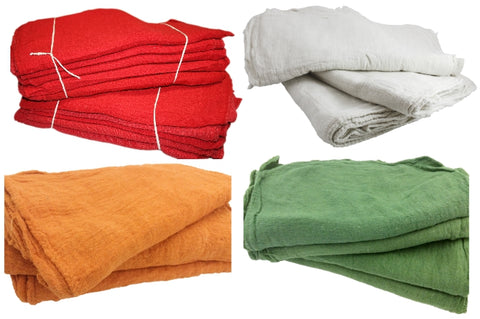 Rags / Shop Towels
Durable & Industry Standard Shop Towels for the institutional customers.  Used by major laundries and by a wide spectrum of industrial institutional customers. 
Industrial Grade Strength Shop Towels
Made with 100% Osnaburg Cotton Heavy Weight Fabric
Prewashed and Preshrunk from 18"x18" to average size 12"x14"
Features Overlocked Edges enabling you to reuse them wash after wash after wash
Ideal for your Toughest Clean-up Tasks
Frequently used for Wiping Spills, Grease, Oil, Tools, Grime and Fluids
For use in Industrial Facilities, Factories, Machine Shops, Garages, On The Job, Auto Centers and Home Garage
Absorbant and Strong. 100% Brand New, Never Used or Recycled.  Machine Washable.
SHOP TOWELS ( RAGS) - BUNDLE OF 25

SKU

DESCRIPTION

SIZE

COLOR

PRICE PER 25-PIECE BUNDLE

Add to cart

1

4

8

16+

STR-25

Shop Towels / Rags / Wipers - 25-Pieces

12 x 14"

Red

$13.45

$13.15

$12.80

$12.50

STW-25

Shop Towels / Rags / Wipers - 25-Pieces

12 x 14"

White

$15.15

$14.80

$14.40

$14.05
SHOP TOWELS ( RAGS) - BUNDLE OF 100

SKU

DESCRIPTION

SIZE

COLOR

PRICE PER 100-PIECE BUNDLE

Add to cart

1

4

8

16+

STR-100

Shop Towels / Rags / Wipers - 100-Pieces

12 x 14"

Red

$26.90

$26.25

$25.60

$25.00

STW-100

Shop Towels / Rags / Wipers - 100-Pieces

12 x 14"

White

$28.15

$27.50

$26.80

$26.15
SHOP TOWELS ( RAGS) - BUNDLE OF 1000

SKU

DESCRIPTION

SIZE

COLOR

PRICE PER 1000-PIECE BUNDLE

Add to cart

1

4

8

16+

STR-1000

Shop Towels / Rags / Wipers - 1000-Pieces

12 x 14"

Red

$176.40

$172.20

$168.00

$163.80

STW-1000

Shop Towels / Rags / Wipers - 1000-Pieces

12 x 14"

White

$184.80

$180.40

$176.00

$171.60
SHOP TOWELS ( RAGS) - BALE OF 2500

SKU

DESCRIPTION

SIZE

COLOR

PRICE PER 2500-PIECE BALE

Add to cart

1

4

8

16+

STR-2500

Shop Towels / Rags / Wipers - 2500-Pieces

12 x 14"

Red

$399.85

$390.35

$380.80

$371.30

STW-2500

Shop Towels / Rags / Wipers - 2500-Pieces

12 x 14"

White

$408.25

$398.55

$388.80

$379.10