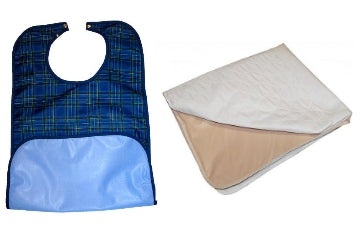 Bibs & Incontinence, Adult
Adult Bibs
Comfortable adult bibs Polyester fabric.

Made in Canada. Adjustable fit. One size fits all

Designed with a waterproof PU barrier for full protection,

Machine washable, Fast drying

Ideal for nusing home, hospitals, clinics, senior homes, elderly homes and home use
Incontinence Pads
Features: Lightweight, ultra-absorbent, completely leak-proof & machine washable

Made in Canada. Reusable Incontinence Pads with Multi-Layer composite structure made of an absorbent polyester surface fabric.

Designed with a soaker material and an impermeable PVC back barrier.

Completely leak-proof & chemically tested for unsafe materials and passed rigorous testing.

These Pads can be machine washed more than 300 times and are machine dry-able.
INCONTINENCE PADS

SKU

DESCRIPTION

SIZE

# OF WASHES

PRICE PER PIECE

Add to cart

1

6

12

24+

PAD3436-1

Under Pad - Ultra Absorbent

34 x 36"

200+

$7.60

$7.10

$6.60

$6.10